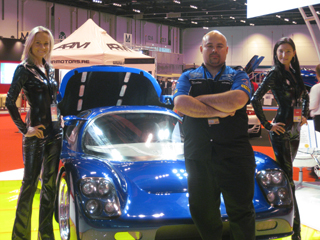 Marlon Kirby and the Maxximus G-Force
On Monday, February 28, there will be a test screening for two films,  a  short documentary, Gluteus Maxximus,   by Alison McMahan, followed by a  short fiction film, Quick Shop, a horror thriller written by Martin Binder and John Leary and directed by Martin Binder. The program will begin at 5:30 with refreshments and socializing at Splash Studios, 49 W 23 St, NYC, Alison McMahan will moderate.

Seating is limited to fifteen people so you MUST RSVP to alison@homunculusprods.com  in order to attend.
FIRST FILM (screening at 6 pm)
TITLE: GLUTEUS MAXXIMUS

http://www.homunculusprods.com/film/documentary/gluteus-maxximus

LOGLINE
Wrestler. Limo Driver. Mechanic. How did a tobacco-chewing no-college homeboy from Indianapolis design the fastest street-legal dragster in the world?

SYNOPSIS
He was a mechanic with a dream, driving a limo on the side to feed his family. Now he's shown 'em, with his Maxximus G-force, a street-legal car that just broke six world records including 0-60 mph (2.134 seconds); 0-100 mph (4.451 seconds); and the mother of all supercar metrics, the 0-100-0 mph mark of 8.861 seconds.
SECOND FILM: (screening at 7:30 pm)
QUICK SHOP
http://www.quickshopmovie.com/
Stop in. Grab a snack. Run for your life…

Hunter and Trevor are new roommates at college. After a falling out over a girl, Trevor talks Hunter into going to his hometown for a weekend in the country. Things take a turn for the worse when they stop at a Quick Shop to go to the bathroom, and proceed to get locked in the store and stalked by the shopkeeper.
Martin Binder – Director/Producer/Editor -  In 2004, armed with "The Filmmaker's Handbook" (borrowed from his sister-in-law, a TV/Film major), he created a proof-of-concept short movie titled "Hellmo", and followed it up in 2005 with a 22 minute mockumentary From Engineering To Product Development: A Transition For the Rest of Us. In 2008 he completed the short comedy One-Day Seminar  (http://www.moviesbymartin.com/) which screened at the Long Island International Film Festival as well as the Lancaster Area Film Festival, garnering positive reviews along the way.  Shortly after One-Day Seminar, he conceived the story for Quick Shop, and has spent the last three years bringing the film to the screen.
John Leary
John Leary – Writer
http://www.johnjosephleary.com/
John Leary is the award-winning author of thriller, horror, and fantasy screenplays and animation. He's contributed scripts to the Saturday morning Fox series EEK! THE CAT.